Protect Important Documents and Valuables, Fiberglass Document Bag is the Answer
In case there is a fire or any other natural or man-made disaster and you can save only a handful of items, the important documents will surely be one of them. Everything that one makes or owns over years and through life has its importance and value, but important documents are something that cannot be replaced, and no one wants to risk. These documents can be of any nature; ranging from official contracts to legal documents, historical remains or something that holds personal value, academic certification or some other important documentation. The important point is to have a system or mechanism that can save important documents from water, fire or any other disaster.
The common solution to protect important documents and valuables from fire and natural disaster is to keep them in safes, however most safes are too heavy and awkward to carry in emergency. Thanks to fiberglass, a revolutionary fireproof material which provides the optimal protection, and it is much lighter and easier to carry.
Fiberglass fireproof document bag is the superior solution due to following reasons.
Fiberglass fireproof document bag is lightweight and portable. In case of a disaster or fire, people can easily grab and go. It's not heavy or difficult to carry despite all the safety features it provides.
Silicone coated fiberglass is not only fireproof but also water-resistant. These document bags are especially handy for people that live in areas where hurricanes and bush fires make a regular appearance. Being fireproof and water-resistant is a critical feature that FlyPal provides.
Compared to metal safes, Fiberglass fireproof bag is an affordable and a onetime investment. A onetime buy goes a long way.
There are many fiberglass fireproof bags available in the market, but the topmost choice and option are undoubtedly the Flypal fireproof and water-resistant bags. The Flypal bags' unique design and structure provide the ultimate protection to important documents and valuables.

The following Flypal's features made the Flypal fireproof and water-resistant bags stand out from a crowd of choices.
Flypal's unique U-shaped zipper provides maximum access to the documents. Other fireproof bags come with central zipper opening which restricts the opening size and make it hard to load and take out large binders and folders.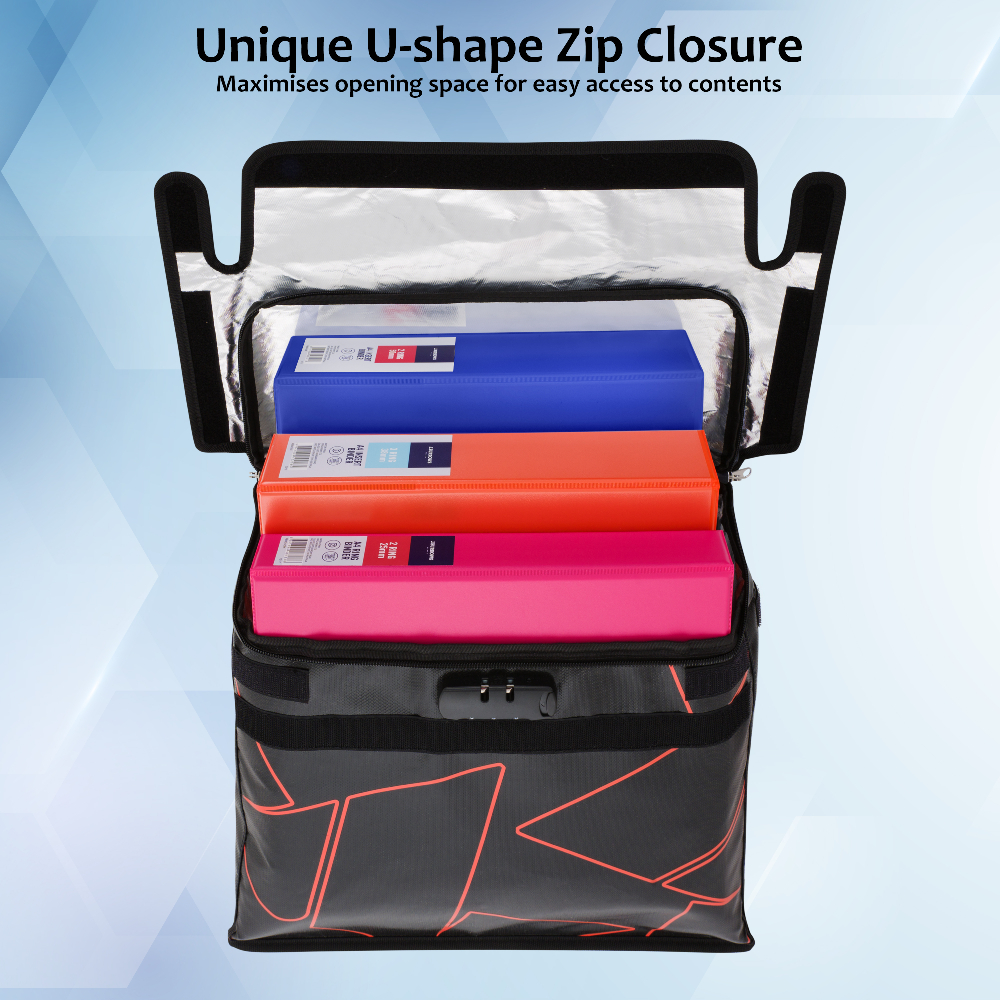 Flypal's evolutionary triple flap design ensures maximum protection against fire and water damage. The enclosed flap design leaves no space between the flap and the zipper which results in zero exposure to water and flame.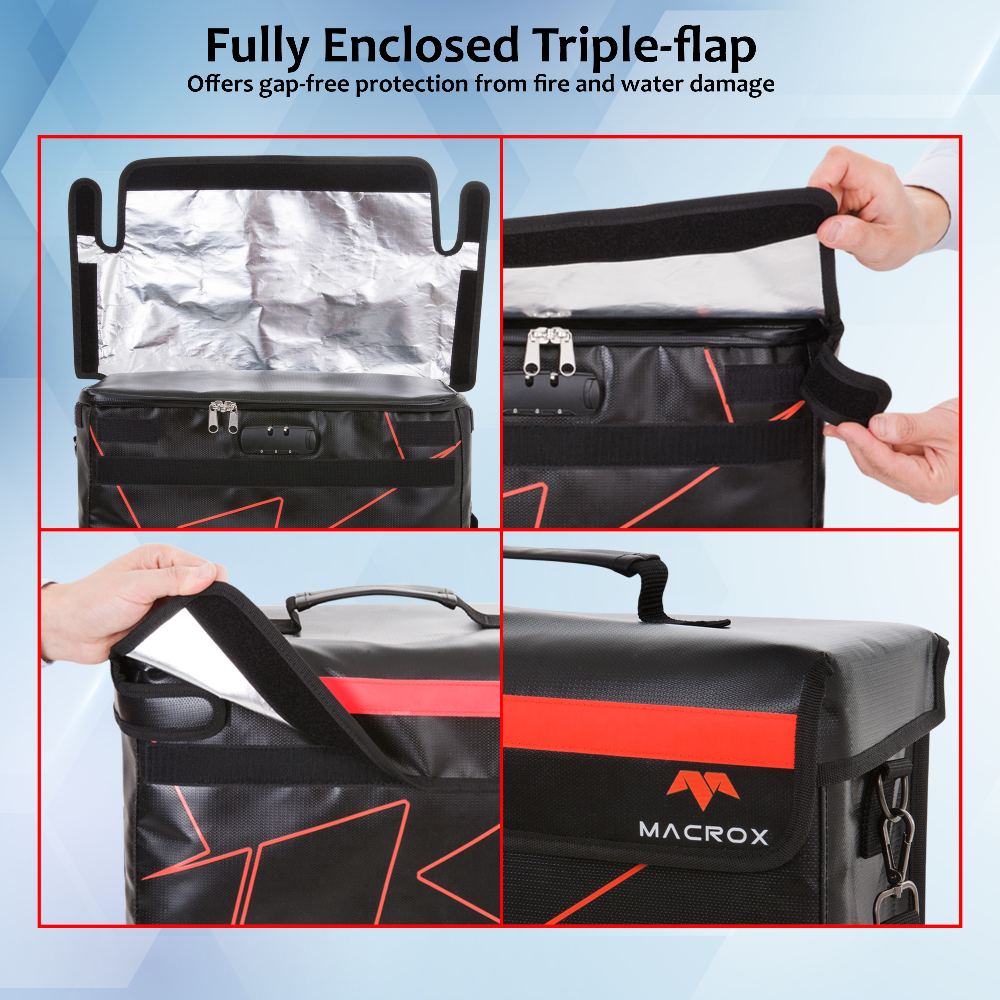 Flypal's double lock system ensures double security. The combination lock and a lockable zipper provide the best security in the market. Most of the competitors don't even provide a lock system.
The Flypal bags are made of fireproof or fire-retardant materials which ensures the best fire and water protection in the market. The steel swivel hooks, fire retardant strap, handle and seam cover offer optimal fire protection. Moreover, the zipper is also waterproof leaving no room for damage.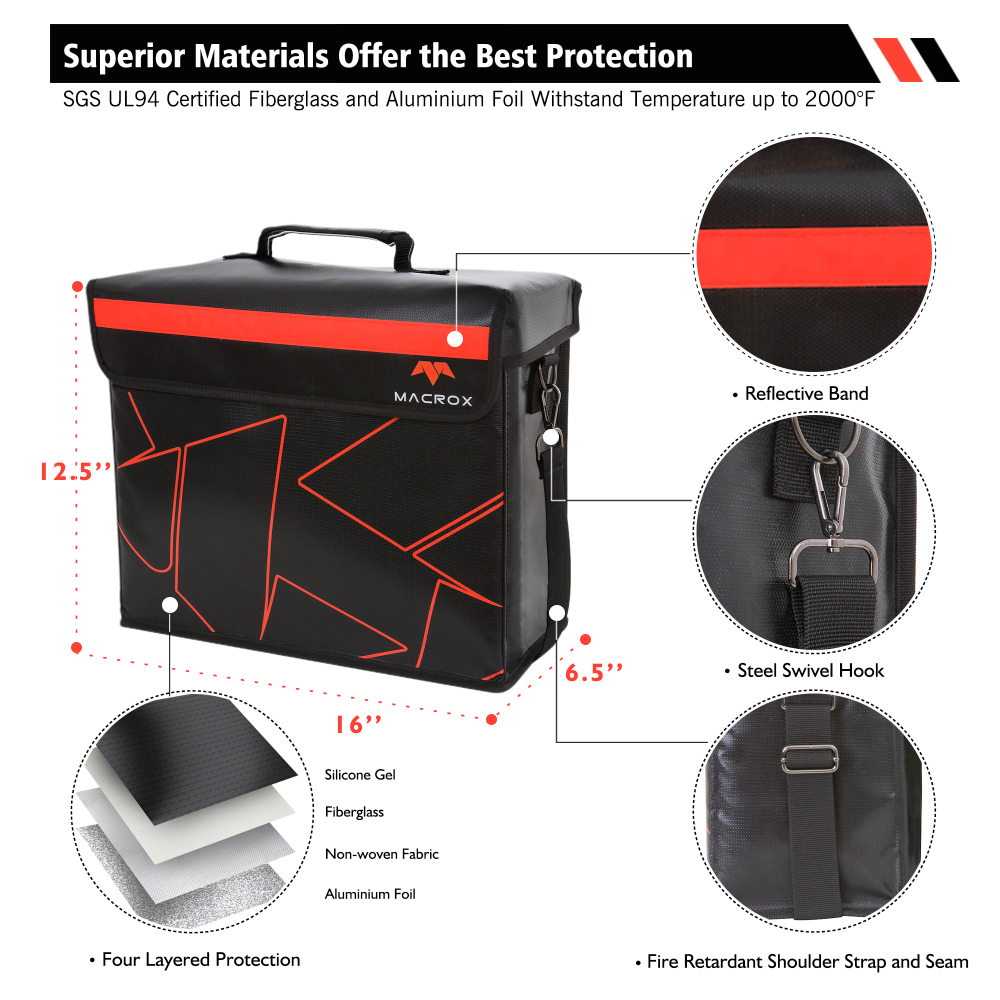 Flypal's four-layered bag materials engineering provides superior protection. The Flypal bag material consists of silicone, fiberglass, non-woven fabric, and aluminium foil which work together and provide the best defence system against fire and water. The fiberglass and aluminium foil are SGL UL94 certified enable the Flypal bags to withstand temperature up to 2000⁰ F.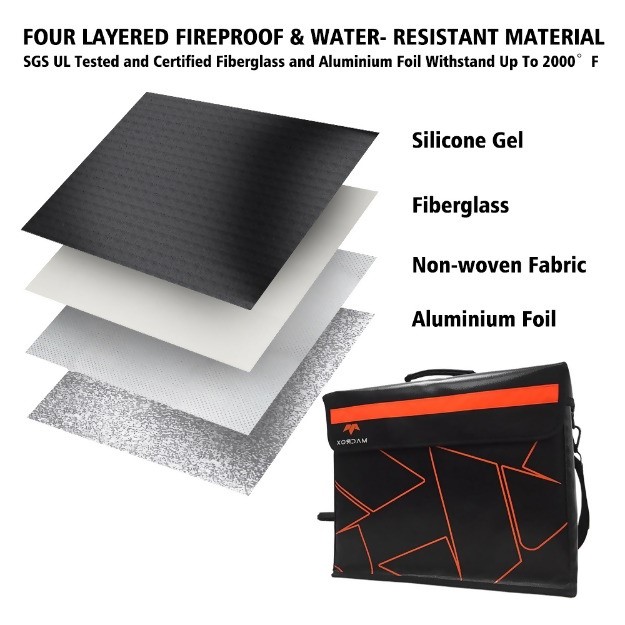 The Flypal bags bases are strengthened by aluminium foil wrapped boards which makes the Flypal fireproof document bags sturdier and more heavy-duty. Accompanying with extra-large interior size, the Flypal bags can easily accommodate the largest binders in the market and carry multiple folders.