13 Awesome Ways To Make Your Long Flight More Comfortable
Taking a long-haul flight is not ideal for anyone because they tend to be boring and unpleasant. Unfortunately, they are sometimes necessary, therefore, finding ways to make your long flight more comfortable is a must.
Most people who take long flights do so to visit friends and family, to relocate, or to simply visit a new part of the world, all of which are very exciting. In addition to this, transoceanic flights in themselves are such an extraordinary experience that they're worth enjoying.
There are many things you can do to make your long flight more comfortable. Buying a first class ticket usually costs a fortune, so it's understandable if that option is off the table.
However, there are many perks you can still enjoy when flying in economy class, and some other comforts you can carry yourself. Long distance flights tend to have negative effects on the body, so you should use all options at your disposal to mitigate these effects.
In this article, we will go over the negative effects of longer flights, what you need to do before your flight, and share 13 great ways to turn your economy long flight into a comfortable and even enjoyable experience.
Long Flights And Their Effect On Your Body
Long-haul flights have well-documented negative effects on the human body. They can range from deprivation of oxygen to exposure to harmful viruses and bacteria. These may result in temporary and potentially long-lasting effects on passengers.
Studies also indicate an elevated exposure to cosmic radiation during long flights.1 Cosmic rays are only dangerous if you are exposed to them in high volumes, but extremely frequent flyers may still suffer adverse effects.
Chances are you have also noticed that you lose the ability to hear and taste during these flights. The reason is that one-third of your taste buds go numb during flights, while the sheer volume of the engines can diminish your sense of hearing.
Lastly, prolonged stretches of inactivity can lead to blood build up around your legs and ankles, increasing the chances of blood clots and other circulatory issues.
Circulation problems are the most imminent issues caused by long-haul flights, and they can have both immediate and long-term effects. However, you can help alleviate these by taking additional items with you that help promote good circulation during your flight.
A Few Tips Before Purchasing Your Flight
There are a few things you can do before or during the booking process that will make your trip a lot more comfortable. These may not apply to everyone, but try to take advantage of the ones you have available to minimize your stress levels.
Always Try To Travel Solo
Although this may not be an option for families, traveling solo usually goes a lot smoother than traveling with other adults. Travel buddies sound like a great idea on paper, but the truth is that two people mean twice as many bags, security checks, and passport stops.
Use Carry-On Bags
Yes, some airlines have extremely strict baggage allowances, but you can now find specialized cases that are designed to fit in most carry-on allowances. If you are only traveling to attend a special event or stopping for a short visit, always consider using a carry-on bag.
Focus On Making Uncomfortable Areas More Pleasant
If you have experience with long flights, try to remember what aspect of them you have struggled with the most in the past. The most common complications tend to come in the form of headaches, nausea, ankle swelling, and foot pain.
Once you identify what your key pain points are, think about what you can do to increase your comfort levels. This includes carrying around extra items, wearing certain clothes, and even sitting in a particular position.
Making Your Long-Haul Flight More Enjoyable
Just because you are flying economy class doesn't mean you have to have a terrible experience. You can easily turn the tables around and make your flight into a relatively comfortable experience, which will in turn help time go faster.
Keep in mind that you can also use these tips if you are flying first class as they are designed to create a comfortable, overall positive flight experience. In order to achieve this, you need to:
Purchase An Inflatable Footrest
Because the biggest concern with taking long flights is circulation, it's natural that this first item will help you mitigate these negative effects. Inflatable footrests are a perfect addition to any avid traveler's arsenal because they can help promote good circulation.
Inflatable footrests are portable and can easily fit in any carry-on bag. In addition to this, these crafty inventions can only take a few breaths to inflate and they are often compact enough to fit under any chair while creating a comfortable seating experience for the user.
Pack Quality Headphones
If you fly frequently, you should definitely consider purchasing a good pair of noise-canceling headphones. Long-term exposure to heavy aircraft noise can cause serious health complications, so make sure you pack a good set of headphones that keeps your ears safe.
Drink Plenty Of Water
You need to drink plenty of water to stay hydrated during your flight. Your body is already exposed to extreme conditions on different fronts, so you need to make sure you drink plenty of water and eat a good meal before getting on an aircraft.
Some people often suffer nausea during their flights, so if you tend to have a bad stomach, simply drink plenty of water a few days in advance instead of drinking a lot just before your plane takes off.
Invest In Good Earplugs
You probably don't want to hear music for more than a few hours, so you should also bring good earplugs that cancel out the noise. This will let you sleep more comfortably, and if you invest in high-grade ones, you may find they help preserve your hearing in the long run.
Good Earplugs
Avoid Sitting Next To A Window
Window seats are extremely cool during short and medium-duration flights. But, if you are flying for more than 8 hours, having a window seat can easily become a nightmare.
Remember that all windows must be raised for takeoff and landing, which may very well take more than half an hour each way. You will likely have the sun shining in your face, which can damage your eyes or simply create a level of discomfort.
Hydrate Your Skin
As we mentioned before, all areas of your body are exposed to extreme conditions for prolonged periods of time, especially your skin. Besides working as a first layer of protection against cosmic rays, your skin also suffers due to the poor air quality inside of airplanes.
Try to keep your skin hydrated by using natural lotions, avoiding sugary drinks and junk food, and drinking plenty of water for at least a few days before your flight.
Wear Your Most Comfortable Clothes
Even if you are attending a family reunion or get-together with your friends, wearing your best get up during your long flight is a bad idea. The reason is because that nice outfits tend to be tight and uncomfortable, which can be the difference between a nice or a dreadful flight.
Pay For A Good Seat
You don't necessarily have to book first class to get a great seat. Paying to select your seat should only cost a few dollars and if you plan strategically, you can manage to get more leg space or even bigger chairs for a small fee.
Front-row seats are often the best choice because you have a lot of leg room, and you can easily bring an inflatable footrest and lay it out without a problem.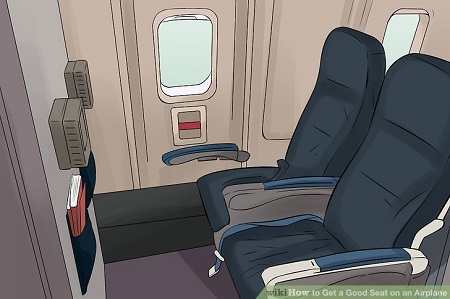 Consider A Neck Pillow
Neck pillows may be laughing stock when you are in the line for passport control or check-in, but during your flight, they can easily become your best friend.
Bring Extra Socks
Walking around the airport and high-stress levels can make your feet sweaty and sticky, which can prevent you from relinquishing your shoes when on board. To counter this, you can bring an extra pair of socks or even pack flight socks that also enhance your blood flow.
Rack Up Miles
If you fly often, you may think that finding the cheapest ticket is the most affordable way to do it. However, certain airlines have developed loyalty programs, also known as miles, that reward frequent customers.
Finding the best deal requires a bit of work, but it's definitely worth the hassle, especially if you find yourself constantly flying the same route. Miles can get you upgrades and cheap first-class tickets, boosting your mental and physical experience.
Take All Meals As Bonuses
We all know that airplane meals are not great, but instead of making a fuss about it, simply take them as a bonus. Some airlines even let you choose between various meal options when you book online, giving you the chance to choose between vegan, vegetarian, or meat dishes.
Think About Your Final Destination
Always remember the reason for your flight. Whether it's business, a family event, or a high school reunion, long flights often cultimate in a great experience, which can help you set a positive mindset for your flight.
Final Thoughts…
Long-flights may have a certain degree of discomfort, but the fact is that we are lucky to have such technology available. Plus, by following the tips above, you can help create a comfortable experience even if you are flying in economy class.
---
Resources:
TravelandLeisure
LifeHack